Will be published on Dec. 3rd, 2019 until 12pm. Inquiry: CliMates Austriahello@climatesaustria.orgBürgerspitalgasse 20/141060 Vienna, Austria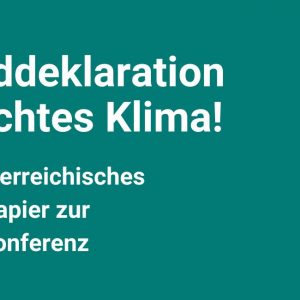 Junges österreichisches Positionspapier zur UN Klimakonferenz Gemeinsam fassen wir österreichische Stimmen der Jugend zusammen. Viele junge Menschen sind enttäuscht von der bisher fehlenden Verantwortung für ein lebenswertes Klima, für die Atmosphäre, für die Biodiversität und von der anhaltenden Ressourcenausbeutung. Junge Menschen überall auf der Welt sind entschlossen, die Integrität unserer Erde für alle Lebensformen, nachfolgende...
Today, we the Youth are united in our call for urgent action on the trans-national crisis of climate change. Together we represent the global constituency of young people, determined to preserve the integrity of our Earth for all lifeforms, for the generations to follow, and for the sake of our own survival. In order to protect our most fundamental right to an inhabitable, healthy environment, it is imperative that we have multi-dimensional cooperation. We must mobilise and transform our hope in order to transcend borders and immerse ourselves in action. This requires cooperation that may be the first of its kind – harmony on a personal, local, national, and international level.